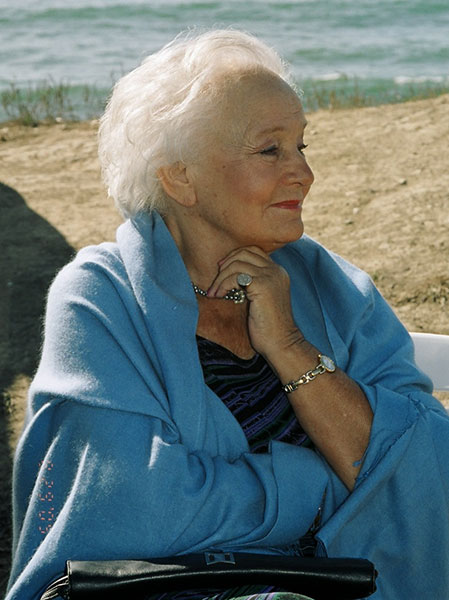 MARGARET MICHALOVITS, MARGARET PURT, MARGARET VIZVARY, MARGARET MAKAY, EDESANYAM, NAGYMAMA, ANYU
We are gathered here today to celebrate your 90th birthday and it's my honor to reflect on those years, and on your positive influence you made on all of our lives.
You had many adventures, challenges and successes. You touched many lives, were "the rock of Gibraltar" for the people around you, caring for their well being first before you considering yourself.
As Margaret Michalovits you enjoyed your youth, growing up as the beautiful daughter of a general, and giving competition to the Gabor sisters in the social circles.
As Margaret Purt you were a young bride and a young mother to a Son, who will always be thankful for all the care, love and values you provided over the years. Without your love, support, and understanding it would have been much more difficult to cope with the challenges of my life.
As Margaret Vizvary, you began a phase of your life, enjoying motherhood again with the birth of my sister Kati, followed by my brother George. At this phase of your life you faced and overcome many adversities: the political situation in Budapest during the Nazi occupation, then World War II, living in the bunker while pregnant, followed by the Russian occupation, the Communist terror and the constant fear for our life. December 1956 you and your family left Hungary and once again faced the unknown and new challenges with great determination. From Vienna in April 1957 the Vizvary Family arrived in New York and started a new life in the West. You worked at Best & Co as a sales lady and at the famous Schruff Restaurant as a receptionist. On the home front, you tried to keep the family together. Unfortunately after many ups and downs this phase of your life ended in June 1963.
As Margaret Makay you started the next phase of your life first in Puerto Rico, then Brazil, and finally finding a happy home in California.
Your kids had all grown up and now you started to enjoy a serene and peaceful life. You and Miklos traveled to many countries and to many parts of the world. In spite of Miklos bacsi's talented driving you survived Italy, France, Switzerland and Lorena just to mention a few with a smile.
You moved to California in 1974 and started the happiest time of your life. Unfortunately it did not last as long as you would have hoped for. Miklos passed away in February 1978 and once again you started another phase of your life.
Almost 30 years now since you have lived alone and remarkably you are still the envy of most of us for your vigor, your attitude, your love of people and most of all your gift of keeping the family together. You are our teacher, role model, and the heart and soul of this great family.
I thank God for your 90 years, and the time we have been allowed to spend with you and look forward to celebrating your 95th.
I love you and salute you
Ivan Purt