magyar
Peter and Agnes Bajka were born in Hungary. They have escaped from the Soviet-Style Communism in 1956. Married in Ottawa, Canada, in 1958, where they had three children: Andy, Erika and Mik. In 1965 the family moved to Puerto Rico and lived there for two years. In 1967 the family moved to the San Francisco Bay area and raised their family in the city of Los Altos. In 2001 Peter and Agnes moved to their country location at Combie Lake Estates, near the city of Auburn.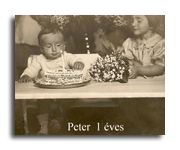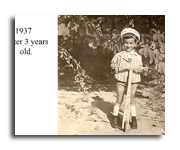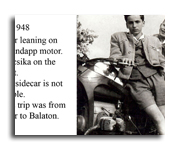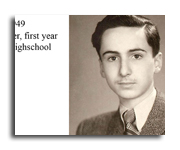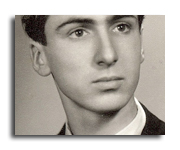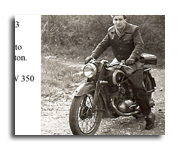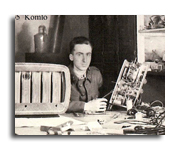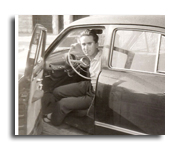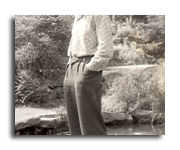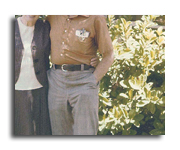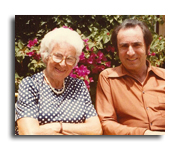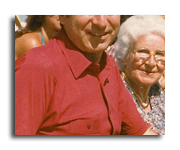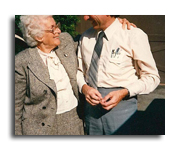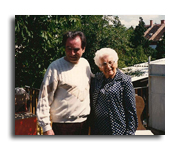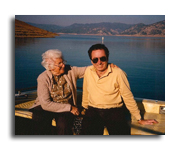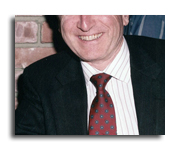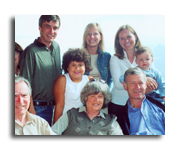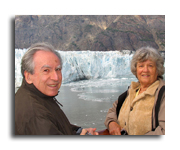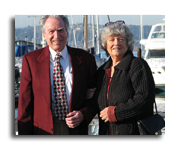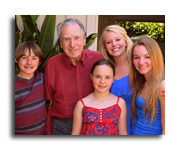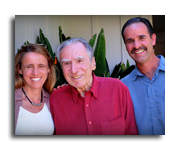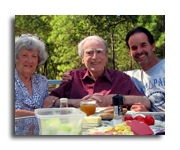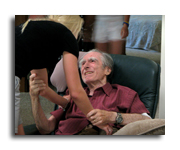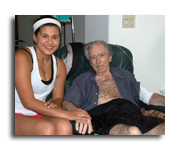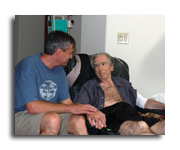 magyar
Life Story of Peter Bajka and Agnes Csajka
(Written by Agnes Bajka, 2010)
After the Second World War, both Peter and I lived through very difficult times. I lived in Sárospatak in northern Hungary until I was 14 years old, and we moved to Budapest in 1949. Peter lived in Pécs in southern Hungary. We both had to grow up in a hurry and help our families. My father died in April 1945, as a war prisoner, my grandfather in November of the same year. He died of a broken heart, losing his son and his oldest grandson in the war, as well as his entire fortune; the result of 50 years of hard work. My mother with three of us (my two brothers, István, Sandi and me) was left without any financial support. The newly formed government started its activities by confiscating all private property except our homes and 100 acres of land for us as war-orphans. That was not enough; they systematically harassed every member of our family, even jailing my grandmother with false accusations of hoarding food. (They searched and found 10 pounds of sugar.) After that, we had to bury in the garden any extra staples.
Our mother met and married our stepfather, Dr. Szabó Jenõ, who worked for the Ministry of Agriculture. They had two children together, Balázs and Eszter. They soon realized that we have to move, to avoid persecution and deportation. They found an apartment in Buda. He soon lost his job, so we started to lease empty lots and grow vegetables and fruit. We also raised chickens and pigs, we had a cow and a horse, all of which had to be fed and cleaned. We grew the animal feed as well. The entire family was working in the fields. We sold what we had extra of and with our horse and carriage hauled firewood and coal for badly needed cash. Later, our stepfather started silk- screening, which was very labor intensive, but more profitable, and helped us through the most difficult times. We worked very hard, but had enough to eat for the family of 8; this was a fantastic feat in those days. Silk-screening took me to Pécs in January 1956, where I met Peter.
Peter was conscripted into the "working" army in those days in Komló. The day we first met, we hiked up to the Kikelet Hotel in the Mecsek, in the snow. We had a drink. By the time we returned to the apartment of Peter's parents, in Antonia utca, our fate was sealed. The rest is history.
Our courtship lasted for a few months and meant a lot of letter writing. Peter visited a few times, risking being caught without proper papers. However, there was no shared future for us; we both were needed desperately by our families. Beside the fact, that Peter's father was not allowed to work and support his mother and brother (Balázs), Peter's help was sorely needed. Peter learned so many things he could make a living from; especially he loved to work with radios and communication equipment in general. He desperately wanted to be an engineer. However that was impossible, neither of us, or any of our siblings, would be ever accepted in any university under the communist regime. His father was a military officer during the war so he and his family were considered "untrustworthy". As a result, he was drafted and was forced to work in a coalmine. Thanks to his resourcefulness and luck, after a short while he worked on the surface. He was working on the mine's communication system. This allowed him a little freedom; he could visit his family while "looking for parts". He had to be careful, deserters were executed. Once, he was arrested, but somebody who knew him saw it and reported it to his father. His father went to see his supervisor, who liked Peter, and went to the police and insisted that without Peter they have to close the mine. It worked, they freed him although he had nightmares for years about this event.
I broke up with Peter in May and did not hear from him for more than a year. The next few months were the most exciting period in our lives. There were small demonstrations occurring in Hungary. At the universities there were groups of students voicing their demands for a free Hungary. The authorities did not clamp down with an iron fist. After Stalin's death there were changes, easing up on the usual terror, which encouraged all of us. The landmines were eliminated along the borders. There was unrest in the neighboring countries as well. We heard that East German refugees were allowed to escape to the West, crossing Hungarian territory. These were unheard of stories before, thus we were emboldened. One day, on October 23rd, we heard that a huge crowd was on its way to the statue of Stalin. They put ropes on it and tore it down; there was cheering in the streets. The Hungarian radio did not report any of this. In the heat of their success, the people continued to the Radio building, taking it over. That was the most important way to give voice to the movement. The next few days were filled with hope. What happened was the fulfillment of every Hungarian's dream. It was a revolution in the purest sense of the world. I have seen several broken store windows, but nobody touched anything. There was no looting. A country held its breath in anticipation of a better life, without Soviet occupation. It was not to be. In the morning of November 4th, as we woke up, we heard the sounds of cannon-fire. In the radio, we heard the voice of our new prime minister, Imre Nagy, telling us, that the Soviets, with their full military might are at the outskirts of Budapest. He asked the world to help us. That did not happen. The youth of Hungary took up arms to fight them. It was a David and Goliath situation. My brother fought. My other brother and his friends dug holes and buried guns, just in case... sixty thousand of our mostly young people gave their lives for a lost cause.
Two hundred fifty thousand of us, including my brothers and I, as well as Peter and his friend, many of our relatives and friends left our country, knowing full well, that we may never return or see our families again. Peter and his friend ended up in Canada. He was given a job at the Ottawa University, working as a technician in the Physiology Department, which was headed by Dr. Beznák. He had to learn English fast, because he wanted to study engineering as soon as he could. My brothers and I went to Switzerland, where a very nice Swiss family helped us to start our lives in the Free World.
In the fall of 1957 I received a letter from Peter's father, telling me that Peter was in Canada and wanted to know where I was. He wrote to him, telling the same thing, neither of which was true (he was a very smart man). We started to correspond and by Christmas we were engaged. After arranging my emigration, I travelled by boat to Canada and we married on August 16, 1958. We arranged the wedding ourselves, there were many friends but none of our relatives. Afterward, we started our lives together.
After we rented and furnished an apartment and I got a job in a toothpaste-tube factory, we saved up a little money and decided to drive across the continent. We wanted to see the beautiful National Parks of America, we previously learned of those from our fathers' libraries. We drove as far as Los Angeles. The West was as beautiful as we imagined. We fell in love with California and decided on a lookout above Donner Lake, which is a beautiful mountain lake in the Sierra Mountains where we dreamed one day to live here. It took many years, but we succeeded in 1967. In the meantime, we had 3 children. Andy was born in 1960, Erika in 1961 and Miki in 1963. I stayed home with them. Peter managed to get a better job. We bought a house. We had a business at home, making modern colorful raffia lamps. We traveled. In 1964 we traveled to Europe. In 1965 we moved to Puerto Rico. Canada was too cold and not very friendly, we did not like it. In 1967, Peter got a job in California. At that time the beginning of the Silicon Valley started to evolve and that suited him well. This job took us to our dreamland, California, and even more importantly, the Bay area. His company arranged our immigration. His salary, we thought was more than we would ever want. (This idea changed in the following years.) We rented and later bought a house, after I found a wonderful job at Syntex, a pharmaceutical research company, where I subsequently worked for 20 years. In 1972, Peter decided to finish the last 2 years for his engineering degree. To help financially, my salary was not enough for our growing family; he decided to modernize swimming pool equipment for other people. He learned about the backwardness of this industry on our own pool. Soon he updated the technology so well that he could easily sell these improvements. The market started to grow. That is how his company, Compool, started. At the beginning the whole family worked on the manufacturing. Later, Erika and Miki finished their University studies, Erika is in medical research, and Miki is in mechanical engineering. They both married engineers. Andy joined Peter in the pool business. During the next 20 years, we worked hard, married off our children and enjoyed our grandchildren.
In the 90's the company started to be more profitable and Andy was happy to take on more of the management, so we could travel. Switzerland, where my two brothers lived with their families was our first choice to find an apartment in the Alps, where the family could gather and we could enjoy a home away from home. We found it in Villars, in a ski area. Our whole family skis in California but Villars is more enjoyable during the warmer months. For twenty years now, we returned there every year and of course went to Hungary every year as well.
When we were ready to retire, Peter sold his company. We moved to Auburn, closer to the Sierras and our kids; only Andy lives in Los Altos. These days we enjoy a beautiful home on a lake, our children and grandchildren visit us often, they love to water-ski on the lake and swim in the pool Peter designed and built adjacent to our house. I love to kayak, I swim every day during summer, and my hobby is preventive medicine and good nutrition.
Unfortunately, we could not prevent Péter's cancer of the bladder. It was caught early, but it did not respond to the treatments. He fought it for almost 2 years. Finally there was no other choice, this April on the 27th, during a 5-hour long operation, his bladder and his prostate were removed. The surgeon fashioned a conduit from a small piece of his ileum. He now has a stoma and has since learned to live with a urostomy bag, which is glued on his lower abdomen. He can shower and swim with it. He does not love it, but he already learned to live with it. We plan to live a full life in spite of this setback. We plan to travel to Europe in September, just as before, we will visit our families and enjoy life.
We have been blessed with a wonderful life, a great family and many good friends. We appreciate all of that and remember those who had to die so we can have freedom. After a half century here, we are Americans, but with very deep ties connecting us to our origins. The very reason that we made this album and wrote these stories for our descendents is that they never forget their origins either.
I find it interesting, that Peter, without even really knowing his Varga grandfather, inherited his wisdom, his business sense, his technical abilities and his helpfulness and he was lucky enough to live in a land of opportunities, where he could use these talents. Just as I inherited my Csajka grandmother's caring nature and my mother's love of family. At least we can be proud of these. We are happy, that our children and our grandchildren are living their lives following similar principals.
Auburn, California, July 22, 2012
The last two years were difficult for us. Peter had many problems as a result of his operation which required many interventions to open up his ureters. After several attempts and many months later they were successful but, Peter weakened and his memory and cognitive functions suffered. However we had great hopes and slowly he improved so much that last fall we traveled to Switzerland and Hungary where we met 85 relatives and friends. He really enjoyed the experience. Sadly this spring he started to have new issues which, as it turned out, were related to metastasis of the original problem.
In late April we went to Los Altos where his doctors are. We found out that there was tumor involvement on his lung, pleura and liver. We wanted to be back home at our beloved Lake Combie so after a family get-together in early May we moved back and shifted his medical care up to our local area. They told us that there is nothing they can do because of the type of tumor and his poor general health. Although Peter was able to enjoy his life by the lake for only a short time we tried to make it the best possible. Our children with their families moved in with us and were incredibly helpful; he was never alone for a minute. Peter was able to go boating on the lake a couple of times, went into the pool, ate outside on the deck and watched the wildlife as he so often did before he became ill. When Peter was still able to converse we focused on old stories and we reviewed old family photos and movies. These would always bring a smile to his face.
In a month the tumors grew so quickly that all our efforts to save Peter's life were in vain. We focused on making him as pain-free and comfortable as possible. We kept him at home, using all the help modern health care has to offer. He was surrounded with such an endless outpouring of love, sitting in his favorite chair; later in his hospital-bed on the same spot, with a view of the beloved forest around him.... He passed away, peacefully. His breathing slowed down and at 4:35 in the afternoon of July 17th he drew his last breath. Only Erika, Mik and I were at his bedside. It seemed to be the way he wanted it.
It brought Peter great pride and comfort knowing that as a result of his hard work and good sense that his family, even the next generations, are well cared for. He truly lived the American dream.
Thank you Pintyem for a great Life!!!
June 10th 2012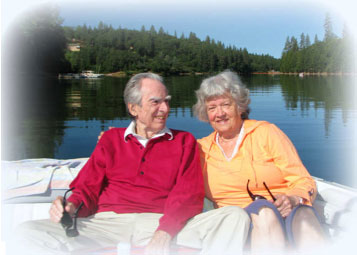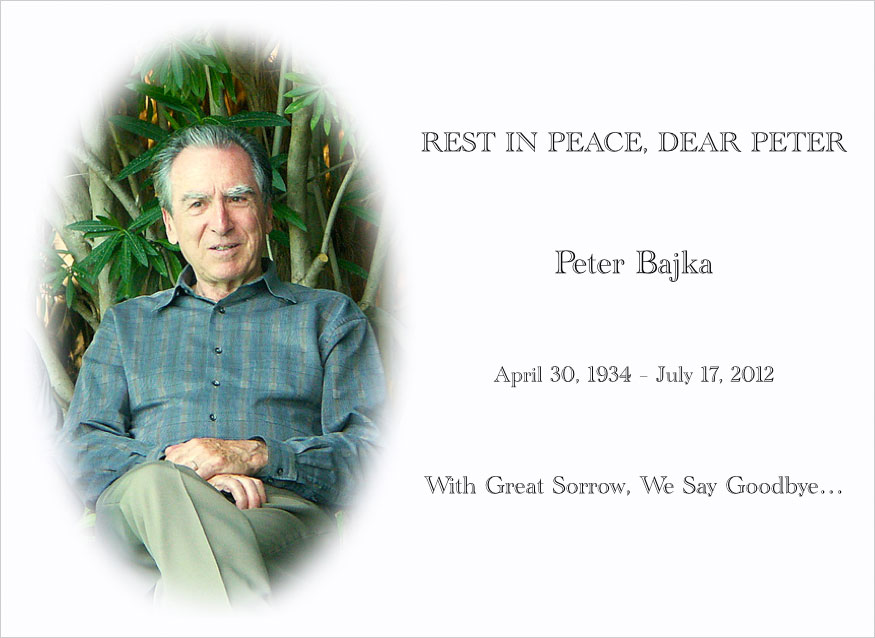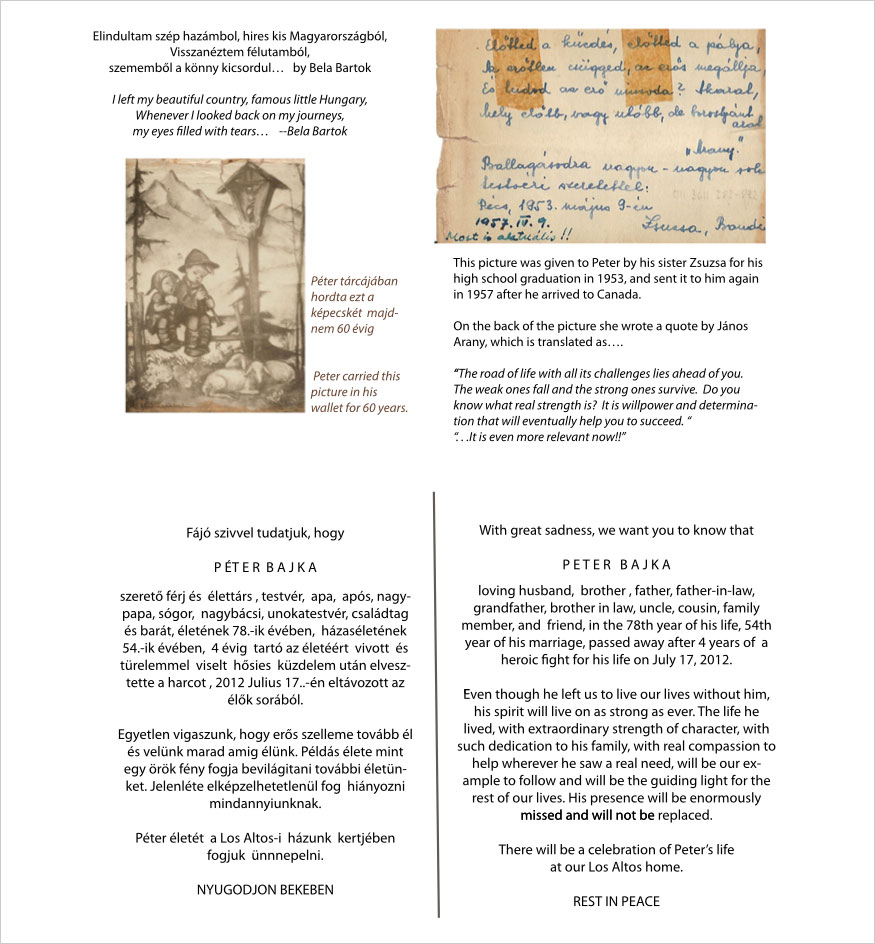 Bajka Family History
(Written by Peter Bajka, 2010)
This is a very brief description of the last fifty years of our family, background, and evolution of our "American" lives. My name is Peter Bajka and the author of the following story.
The year is 1954, two years after my graduation from high school. Living in an extremely oppressive communist-run country, the son of a military officer, in the regime during the World War II era, has not been trusted in any way and matter. At age 20, I have been condemned to a hard labor camp and forced to do manual labor, 2000 feet below ground in a coal mine. This continued for two years, until the 1956 uprising that opened the barbed-wired fences around all the hard labor camps and the borders of the country. After a torturous 15-mile walk, 20 other people and myself, managed to walk through the fortified barriers between Hungary and Austria, to the gateway of land of freedom.
My first choice of destination was the USA. However, that was not to be, because of the than existing quota having been filled. Thus I went to Canada where I spent 8 years. That is where Agnes and I got married in 1958. (Although Agnes and I briefly met in Hungary, Agnes escaped from Hungary in a different direction, winding up in Switzerland) Later we had a family of three children born between 1960 and 1963. In 1965 the 5-member family moved to Puerto Rico (a little closer to the United States), where we spent 2 years. In 1967 my old dream finally materialized, when we immigrated to the U.S., and settled in California.
In California, we started to build a new life for ourselves, being able to take advantage of all the opportunities available for all. We, Agnes and I, both worked full time. After hours I started to take evening classes in the neighboring Colleges and Universities. While we kept the best parts of our inherited cultures, we also embraced everything the good California living had to offer. After many years of hard work I graduated with a BSEE degree from the California State University in 1974.
We both, Agnes and I, have been broadly exposed to the academic environment. Agnes worked for a prestigious pharmaceutical research company, where we met most of our friends with whom we are still closely associated to date. These people came from all walks of life, countries and ethnicity. Thus our own backgrounds have become an advantage, rather than a hindrance.
In our "old family" we were taught (mostly by way of example from our parents) honesty, integrity, goodness and morality. Even though, we have not been able to practice a life in this fashion in the communist oppression, when we were dealing with the government and the Party. In order to survive we had to resort to cheating, lying and stealing. This deplorable behavior has not become part of our culture; we had no difficulty shedding those in favor of the fundamental morality that our good parents imparted to us.
As we learned our "new language" along with that we also learned that, America is the land of opportunities. Coupled with honest hard work we could not miss to build a good fruitful life for ourselves. Education is a key factor. The more you know, the more you can achieve. Never look for "easy money". Earn your living.
Migrating to the U.S. felt like winning the jackpot. What was the jackpot? The freedom and the opportunities. Learning a new language is hard, but the achievements are gratifying.
Intergenerational conflict? I see none. Even though you could be my grandson, I am still happy to share my lifelong experience with you, hoping it will help you to become a well educated, balanced individual, who will be proud of himself and a pride of your parents and the society.
Remembering my dad
(Written by Andy Bajka, 07/17/12)
My father died today at his house in Auburn California. He was surrounded by my mother, brother, sister and their families.
Dad was only 78 years old, but cancer took his life early much like it did with his father, my grandfather died of bladder cancer at age 65. My father was diagnosed with bladder cancer at age 75 and in three short years this aggressive cancer took his life too.
My father was born in Hungary in 1934. At an early age he was very mechanically inclined and loved motorcycles just like me. Here's a picture of him at 18 years old on his first motorcycle.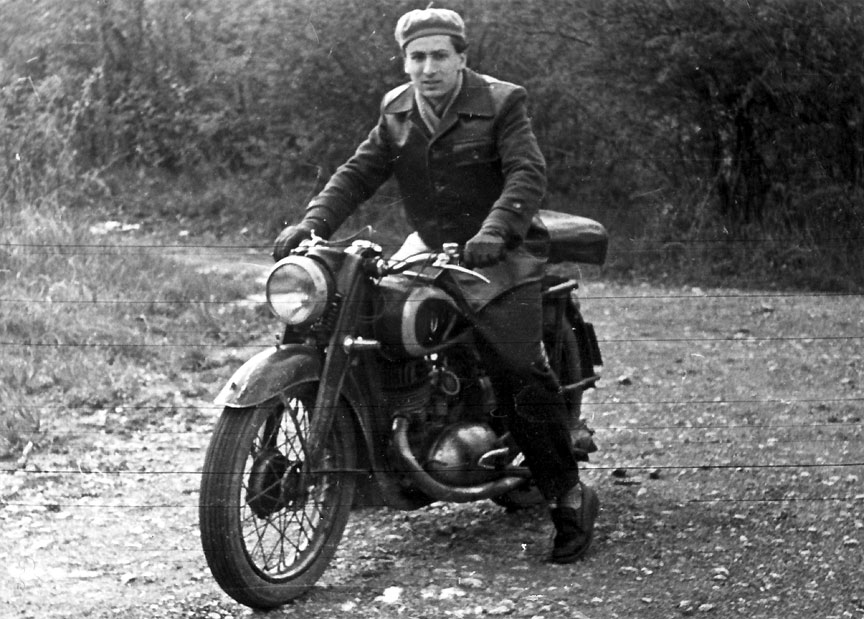 Peter was a huge influence on my life and was the best father a son could ever have. I think the single most important thing he did for me was to purchase a motorcycle for me at age 11. At the time I had no idea that my love for mini bikes and motorcycles was something I inherited from him. Later in life I come to find that my father also loved riding and repairing motorcycles just like me. Here's dad at age 38 sitting on my new motorcycle, I was just 11 years old.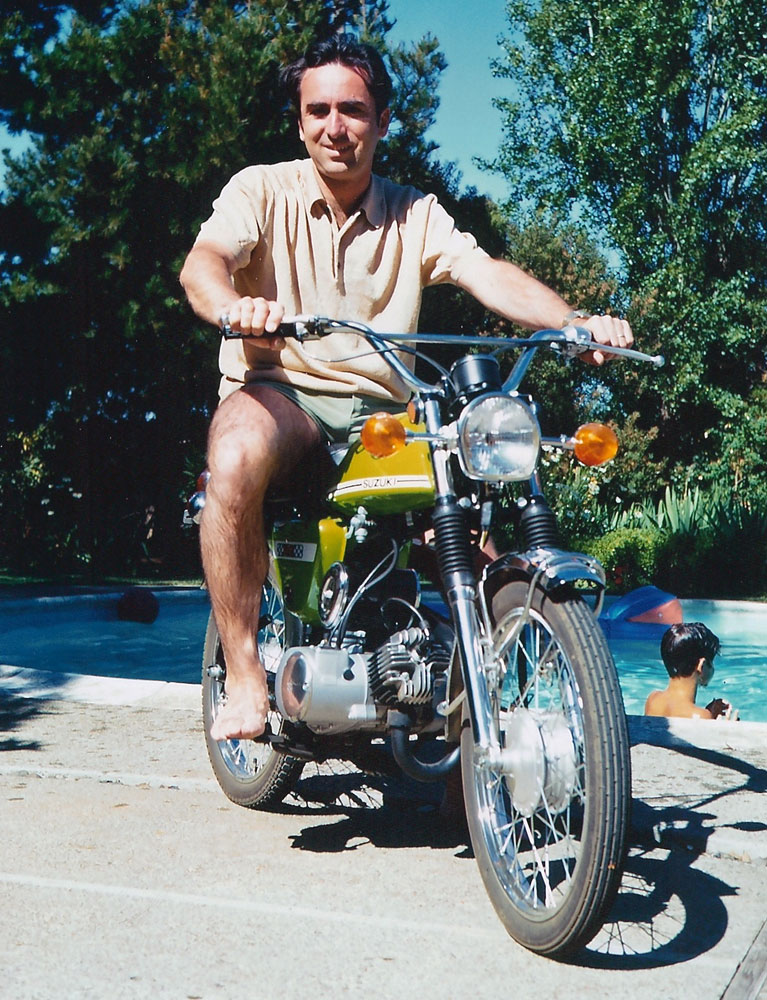 My father was always teaching me about mechanics, electronics and physics. He was a very successful businessman and founded a company called Compool which made swimming pool controls. I worked with my father at Compool for 15 years and it was the best years of our lives.
Mom and dad's favorite thing to do was vacation in Switzerland and Hungary. Every year they would go for a month and visit with family that live in these two countries. My parents love the outdoors and took many pictures and videos to share with us.
In 2001 my father sold Compool and he and my mom retired to a beautiful home in Auburn. My father enjoyed snow skiing every weekend and loved to have family visit. Here's a picture of my father in 2005 riding my daughters Yamaha.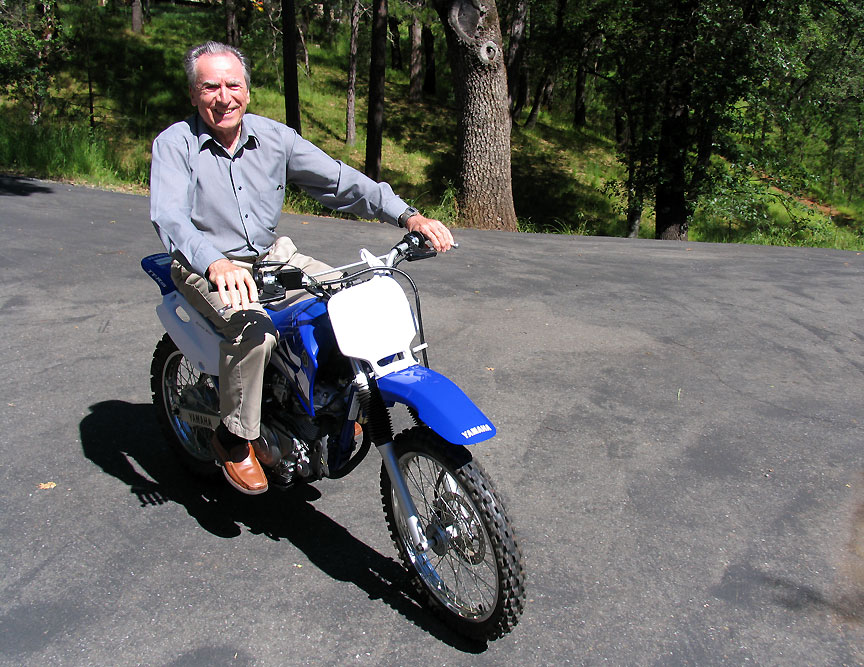 My father passed away without any pain and I'm so glad I was able to visit him just last week when he and I spent three wonderful days side-by-side just like we used to spend time together when we worked at Compool. I know he loved me very much as I did him and he was very strong right till the end of his life, never once showing any regrets. He had the best life a man could ever have with a loving wife and family by his side.
I love you dad.
Your son, Andy
Ordinary Beginnings... an Extraordinary Life
(Written by Mik Bajka, 08/01/12)
When my mom asked me last week to speak today to honor my dad I told her she just asked me to do something that part of me hoped she wouldn't ask. She said "why, you always speak at these gatherings for us and say such nice things". I told her this was different. This was about losing dad and I'm not sure I could get through it. I'm still not certain I can, so please bear with me. I'm sure most of you know in great detail the story of my dad's life and as anyone that has heard me speak of both my parents before can tell you that I have an immense amount of respect and admiration for what they have accomplished. So rather than repeating these topics, which are now well documented thanks to their efforts, I thought I'd delve into a couple of my dad's attributes that haven't garnered as much attention but I feel are equally important when defining his character.
OK, so don't stop me if you've heard this one before...
One particular Christmas season a long time ago, Santa Claus was getting ready for his annual trip but there were problems everywhere. Four of his elves got sick, and the trainee elves did not produce the toys as fast as the regular ones so Santa was beginning to feel the pressure of being behind schedule. Then Mrs. Claus told Santa that her Mom was coming to visit; this stressed Santa even more.
When he went to harness the reindeer, he found that three of them were about to give birth and two had jumped the fence and were out at heaven knows where. More stress.
Then when he began to load the sleigh one of the boards cracked and the toy bag fell to the ground and scattered the toys. So, frustrated, Santa went into the house for a cup of coffee and a shot of whiskey. When he went to the cupboard, he discovered that the elves had hid the liquor and there was nothing to drink.
In his frustration, he accidentally dropped the coffeepot and it broke into hundreds of little pieces all over the kitchen floor. He went to get the broom and found that mice had eaten the straw it was made of. Just then the doorbell rang and Santa cussed on his way to the door. He opened the door and there was a little angel with a great big Christmas tree.
The angel said, very cheerfully, "Merry Christmas Santa. I have a beautiful tree for you. Isn't it just a lovely tree? Where would you like me to stick it?
Thus began the tradition of the little angel on top of the Christmas tree!
That one was for you dad. I know this corny joke was one of your favorites, for decades! You got such a kick out of this and so many silly little jokes like it years ago that you used to repeat them all the time; or at least the punch line whenever something triggered your memory about the joke. For all outward appearances of being a consummate gentleman, a scholar, a teacher, an entrepreneur, a responsible family man….. you've always had a youthful soul. When you were physically with us you always loved to laugh and always appreciated a good joke (as raunchy or childish they might be). Even when you were having your worst days, just last month, and could barely muster the energy to say any words at all, what would usually come out of your mouth was something witty that would make us chuckle. Doctors and nurses as well. I will forever wonder if you did that for yourself or for those of us around you? Did you feel you had to protect us from what we were witnessing? …Your pain and rapid demise? I know you were concerned about being a "burden" to your family.
I hope you believed us when we said you were not. Your care was a labor of love and there is nothing else we would have rather done. We told you time and time again that you had taken care of us most of our lives and it was simply our turn to take care of you, even though we knew it was demoralizing for you to acknowledge you needed it. You were always our rock. There was no one more deserving of our attention than you. It was not just your immediate family you always took care of; the list of beneficiaries is almost endless. First you took care of your family in Hungary when you were really just a boy. When you knew your future would be severely limited by communist oppression you decided to escape at great risk to your own life so you would have the opportunity to make a better life, not just for yourself but, for the family you had to leave behind. By just about every measure one could enumerate, you succeeded. Even before you had established a thriving business, you provided employment and work visa opportunities to those who needed it most (close family, distant relatives, friends, friends of friends, and in some cases people you didn't even know). You were sort of the Oscar Schindler of the Silicon Valley. You consistently gave people a chance, sometimes multiple chances, even when your confidants advised against it. You believed that people were inherently good and everyone had potential. Most of the time you were right and when you were wrong it caused you great pain and guilt that you couldn't continue to help them because they weren't ready to help themselves. And because of that philosophy you changed untold lives, in many cases, profoundly. I suspect many of the people here listening to me ramble on today would count themselves among the lucky ones. I know I do because I consider myself one of the luckiest. You didn't just give me an opportunity to earn an allowance or a paycheck, you taught me valuable life skills, from the practical things like basic woodworking to mechanical & electrical design to troubleshooting complex digital circuits. But the most valuable "skill" you taught me was (using your own words) to "not look for easy money; earn your living". By example you taught me that success comes from hard work and that, while it can be OK to accept help from others sometimes, I should never rely on it. It occurred to me recently that you were so many things to so many people (husband, father, provider, entrepreneur, etc….) but above all else, you were a teacher. Throughout my life I witnessed you sharing your hard-earned knowledge and skills with so many people and you always did it with joy, enthusiasm and pride. For this I thank you from the bottom of my heart and on behalf of the hundreds of people that have benefited from your teaching, I thank you.
I know you never really thought of yourself as a religious person but I do believe you are a soulful person who has lead a purposeful life and I do believe you are with us now. One of the Dalai Lama's quotes is "This is my simple religion. There is no need for temples; no need for complicated philosophy. Our own brain, our own heart is our temple; the philosophy is kindness." You imbued kindness your entire existence so this was your simple religion and you deserve any and all rewards resulting from your life of kindness. Another of his quotes is "if you share your knowledge it is a way to achieve immortality". You never stopped sharing your knowledge and there is little doubt that you will live on forever in all of us. As you look down on us I ask you to reflect on this crowd. Students, engineers, biologists, chemists, geneticists; with bachelor degrees, master degrees, PhD's and medical degrees; entrepreneurs, successful business people, successful parents and families. You have taught and touched almost all of us in one way or another over the years. Now I ask you, when you were just a poor boy 18 years of age and forced to work 2000 ft below ground in a coal mine by a communist regime that felt you were not even worthy of a college education, could you ever have imagined that you would have lived the American Dream as you did, built the family you did and kept the type of company that you see assembled here today? Knowing you as I do, in my heart I can almost hear you now say "of course I did". You knew your destiny before you ever left Hungary and you possessed the quiet confidence, intelligence, intestinal fortitude and tenacity to make it a reality. And all the while you knew how to strike a balance between hard work and enjoying life, surrounding yourself with people you love (and who loved you) while you were at it. That is no small feat and for that you will always have my eternal respect and admiration.
The morning of July 17th, as I held your hand, I told you 3 things and I now believe you heard me. One was that it was OK to leave us whenever you were ready to do so; we knew you were so tired of this life that was really no longer a life. The 2nd was that we, your family, would be OK; thanks to the way you lived your life we learned to have that same quiet confidence as you and that would carry us forward. Lastly I told you that I know you think all this afterlife stuff is a bunch of BS but that I personally believe it is not and that we will see each other again. By now you will have realized that I was right! I trust you are already enjoying your time with your mom, dad, brother and especially Sandi, whom you loved so much and left us too soon.
Thanks dad for all you have done for me, our family and everyone that has benefited by knowing you during your stay on this earth.
I could never say it enough when you were here but I love you with all my being. I am so glad that you are at peace and I can say with my own quiet confidence, "jó utat kívánok" (I wish you a good journey) and "I WILL see you later."
With eternal love and admiration,
Your "baby"
Mik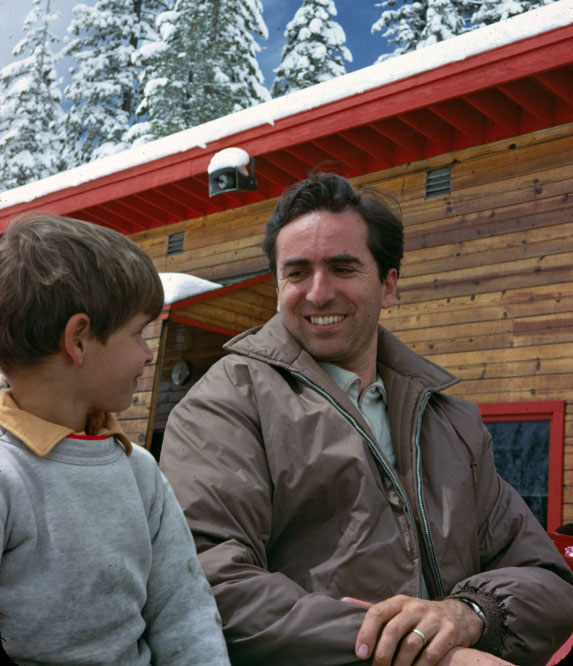 Remembering my Grandfather
(Written by Melissa Bajka, 07/22/12)
Dear Nagypapa,
It's been almost a week since you've passed away but it still hasn't hit me. When I was in Auburn visiting you two weeks ago I didn't realize how bad you've gotten. It was hard to see the man who knows everything know so little.
I remember running around Compool while you and my dad built the company. I remember that whenever I went to Compool I got to see my whole family. I remember walking through the front door and if I turned left I would see your office and then my dads but if I turned left I would see Rudy's office. I remember hiding out in Rudy's office because I didn't want to get in the way of you and my dad when you were busy. He also had a putput course in his office so I was drawn to that as well. It's funny looking back and seeing how far I've grown.
I didn't realize how much you were in my life. When I was visiting you two weeks ago I had two moments with you that I'll never forget. The first was when I was sitting in the massage chair that Bryan and Erika brought over for you. I was having so much trouble trying to figure out how to work it and you looked over at me and smiled. Embarrassed I said that it was too technological for me and you laughed. It was incredible sitting with you in the living room and having a moment like that. I was struggling with the massage chair technology while siting around from the man that knows everything about technology. I looked up to you. You are the man that made my life possible. If it weren't for you, I wouldn't be sitting in my apartment in Washington going to school without having to worry about money and whether or not I'd be able to afford rent. I'm so grateful to have you as my grandfather. You are the man that's made all of our lives the way they are.
The other moment was the hardest for me. When I was saying my final goodbye, you said, "I love you" to me and that was the moment for me where everything clicked. I had so much trouble saying it back to you because I knew that it would be the last time I would ever say that to you. Even though it was hard, it was the greatest moment I've had with you. I will never forget it. I know this letter is all over the place but I just don't know how to write this the best way I can. One thing I really feel the need to say is that I hope to have the love that you share with Negymama. It's incredible that through thick and thin you two are always there for each other. You've gone through a revolution, acquiring US citizenship, moving to California, and working your way up the food chain in order to give your family the best life they could have. You did more than give them the best life the could have, you gave them the best life for them and the future generations. You're absolutely amazing. I wish I could say more but I can't think of anything to say. It's hard to put all these memories and years together into one single letter. All that's left for me to leave you with is these last two pictures. The first is from when you were teaching me how to water ski and the second is our last picture we have together.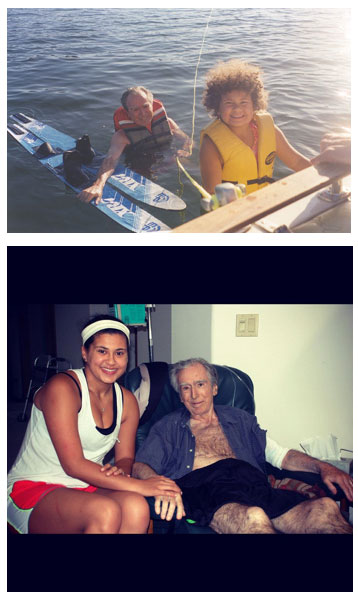 I love you Nagypapa. Many will miss you.
Love,

Melissa
Remembering my Grandfather
(Written by Nicole Bajka, 08/12/12)
"Death leaves a heartache no one can heal, love leaves a memory no one can steal". I know many individuals here can relate to this quote, but for me, this quote embodies how I feel about my Nagypapa. My grandfather has been such an important figure throughout my youth and has now moved on. While I am faced with the harsh reality that one of my grandfathers will never be there to see me graduate from college, get married, and start my own family, I find comfort in knowing that my Nagypapa is at peace and resting more comfortably while his spirit continues to provide me with guidance and watch over me.
I believe he is here with us today and I would like to share with all of you my message to him as we remember him this evening:
My Dearest Nagypapa,
I feel so fortunate to have spent so much time with you these past few months. Even though I was out-of-state attending my first year at college, we would talk on the phone often and sit together and visit almost every day that I was back at home. Now I understand how much of a gift spending that time with you was. I wouldn't trade anything in the world for a moment of the time I have spent with you these past few months, this past year, or the previous 18 years of my life. I will never forget our talks, quiet times; sitting on the deck in the sunshine, holding your hand, and seeing you smile at me and with me.
You have had such a great impact on my life. I know my life would have been so different without you in it. You helped enforce many of life's most important lessons especially about hard work, dedication, education, being gracious and giving, the value of honesty, laughing and smiling as much as possible, and always putting family first. While I had been exposed to all the these same lessons through my parents, somehow witnessing you, a generation above my parents, made me understand the value so much more and much sooner. I have embraced these lessons and philosophies and hope I can emulate these same behaviors and characteristics in my own life and pass them on to my children when I start my own family. Your love and support never wavered, you allowed every person you met to be themselves and you never judged. You were always a gentlemen, and always generous.
I know we have had a lot of very meaningful and memorable talks over the years, highlighted by some very deep discussions this past year. While I feel very fortunate for every moment I have had with you, somehow, as is probably the case with many, I would give anything for the chance to re-live every moment, every conversation, and every laugh and tear all over again. I don't think I could ever have spent 'enough' time with you but I am faced with the stark reality that my memories will have to suffice until we meet again.
Your love for me, and mine for you is something I will cherish my remaining days on this earth. While it makes it more difficult to cope with the heartache of your absence, I feel so incredibly lucky to share such an overwhelming emotion with you. I love you so much and I commend your perseverance in fighting a long, hard fight. You will continue to inspire all of us more than you realize.
It has been 26 days now since you're passing Peter Bajka and we are all doing our part to make you proud each and every day and continue to represent you in our daily lives. Your physical being may be gone but your legacy lives on and your spirit will forever be in our hearts and minds. Rest in Peace Nagypapa.
Love,
Nicole
(Age 19, daughter of Mik & Doris Bajka)
Remembering my Grandfather
(Written by Kaycie Bajka, 08/12/12)
My Nagypapa,
Grandpa is what most people would call him because that's what he was, but we all know he was really so much more. He was a teacher, a businessman, a hero to many, a best friend to all and the best part to me….an amazing hand holder.
He has always been such a big part of my life. He was there when I first learned to walk, snow ski and waterski; he was with me on my first trip to Europe, on the side lines for my ski races, and loved to listen to me playing the piano. He supported my every move in life and that meant so much to me. I always tried my hardest in school and every trimester he would have a smile on his face when I told him my grades. He valued education so much that it made me want to excel in school.
He loved each and every one of his family members and friends. I loved hearing his stories and his lessons about how everything works. When I go back and think about all the times with him it's hard because all I want is one more memory, one more time to see his smile and hear his voice. I am sure everyone can relate when I say this was difficult to write. It reminds me of so many things that I will never have the opportunity to experience again with him. When I go into the Combie house, I see his favorite chair. It still has his imprint in it. His room still smells like him, and so do all his clothes. It's nice to see the little things that meant so much to him.
One of my favorite last memories with him was when we took him out on the boat with us just a few weeks before he passed. This was the first time in years and I was so grateful I got to be with him on this day. It was so special that we managed to do it a second time a week later and this time he drove the boat. This memory is very special to me because he loved the lake so much. He called it 'his lake.' He was always so happy with what he had in life and never wanted anything more. Through his fight with cancer his friends and family brought him comfort, but so did nature. When I sat with him he would stare out the window. When I asked him what he was looking at, he would say "the shimmering water," or point out a bird in one of the trees. I looked out and sure enough you could see the shimmering water from the lake or the tiny bird in the tree. He noticed things that a lot of people wouldn't. Nagypapa reminded me of an eagle; he was a strong fighter and I hope he still soars above us now. He was incredibly intelligent yet humble, and many of the things Nagypapa invented surround us today. He was gracious and handsome throughout his life, up until his last breath. He taught me to always live each day as your last and he was such a great example of that.
During this past year we would go for walks together to the mail box or to get the newspaper. Nagypapa needed the exercise and I loved my time with him. He would tell me the same story on each walk and it never got old. He would share with me the story about how his dad had instructed him "don't shuffle your feet when you walk" and now he was working so hard not to shuffle his feet. I became closer than ever with my Nagypapa in the recent months. I saw him almost every day. I sat with him at doctor's appointments; we squeezed each other's hand with each needle stick. I would sit and hold his hand for hours through the IV infusions. Most of my friends would be outside playing because it was summer, but I don't regret one second of the time I spent with him. As I venture back to school this fall, my friends will still be there for me, but my Nagypapa has passed on. My time with him will always be special to me; I truly loved every second of it. If I hadn't spent each day with him maybe it wouldn't have hurt so badly when he passed, but I couldn't imagine not doing it. I am thankful for all that he has taught me, given me, and the memories I have with him. He has made a huge difference in my life, and I will remember him forever. He is and always will be, my Nagypapa.
Love,
Kaycie
(Age 14, daughter of Mik & Doris Bajka)
Remembering my Grandfather
(Written by Calin Martel, 07/18/12)
My Nagypapa died yesterday on July 17, 2012. He fought with cancer for four long years and passed away at age 78. When I woke up on the next day, I walked through the house feeling a great sorrow, for I knew that my Nagypapa was never going to be here in this world with me again. As I walked I saw his green reclining chair that he would always sit in during his long happy life, and during his long painful years of cancer. As I stood and stared at the green chair, I realized that he would never sit there again, and I started to cry. We shared many happy moments when he was in that chair, All the times we would laugh together at the movie Grumpy Old Men, and the times he told me stories about his life from the hard times, to the good times. But in his last couple weeks of life, we shared many sad moments too. All the times he would sit there in pain. I would hover over him crying thinking of all the great times we shared going to Europe, him telling me stories, him teaching me about engineering, and being with him in the train room, teaching me how to use the toy trains. After I stared at the chair, I sat down on the couch (beside the chair), and turned on the movie Grumpy Old Men, which was his favorite movie. Since it was a comedy I laughed and thought of Nagypapa.
Next I walked into the 'library" which was the living room. I then thought of all the times I saw him read TIME magazine, books about the National Parks, and books about little Hungary while he sat in this room. And sometimes he would even read to me. I loved to go in and see him happy, hooked on reading a book or a magazine. And last but not least, I went to his bedroom and sat on his bed, and first thought about how he loved hearing me play the piano, and the songs I played for him like Eina Klina, Fur Elisse and last but not least my favorite, Tramerii, Next I looked at all the pictures in his room, mostly of all his grandchildren and his children and I thought, wow he must have loved me and everyone in the family. All the pictures of him with his priceless smile with the family. In every picture he showed that he loved his family. And I looked at the bed, all the times I would greet him good morning and talk about the weather and how gorgeous the day was. Nagypapa would always wake up ready for a new day, and for great things to happen. Nagypapa was full of life and never let things get him down, and how he would get people up when they were down with his great sense of humor. Although some of jokes had a little bit of bad language in them he would always make me and others laugh. Then I remembered that I am humorous too, and that made me think that Nagypapa is not gone from this world, in fact he is still here in our hearts, and that he is in me. He is my Nagypapa, which makes me a quarter of him and therefore a part of me is him. After this I left the room and started tearing up as I remembered the day before. When he had already passed away, I had to go to sleep so I did not have to see him being taken away. I said my final goodbye to him before bedtime and in my final goodbye I said " thank you for being my Nagypapa, I am glad to be your one and only Grandson. You were very special to me, some day I will do something great for you. What it is I don't know yet, but maybe you know… I will keep this family going with the name Bajka, and someday I will meet you in Heaven". I hugged him and gave him a kiss on his head, after that I said," I love you," bye. Love Calan (age 12)
Remembering my Grandfather
(Written by Karina Martel, 07/18/12)
Yesterday my Nagypapa died on July 17, 2012 at 4:35p.m. I cried for so long, hoping he would just start breathing again. I felt that it was not real but it was, my Nagypapa died that day.
The cancer took his life. I couldn't sleep that night because all I could think about was him. My parents, aunts, uncles, and grandma made all the kids go to bed early that night so we did not see him being taken away. When I had to say my last goodbyes I said, "Goodbye Nagypapa thank you for all you have done for me. You will be missed greatly and you will always be in my heart. You took care of me and loved me, I don't want to let you go but I have too, I love you so much, goodbye." Then I kissed him, hugged him, held his hand and then I left.
The next morning I woke up crying thinking I will never see him again, all we will be able to do is look at his picture and not him. I do not know what he will think of me when I grow up, but I know what he would have wanted me to do. I know he will be watching and smiling over me in "heaven" or wherever he is. Then after I stopped crying I got up out of bed and walked into the living room which was his most favorite room in the house. His favorite green reclining chair was there, he loved that chair and that is why we will put his ashes there, right next to the green chair so he can sit in his chair forever and look out of his favorite view forever. After I was done looking at his favorite room in the house I watched his favorite movie Grumpy Old Men and I pretended that he watched with me.
I remember when I was really young I was skiing down the mountain with my team and I saw him, so I stopped and he gave me a hug and we skied down the mountain together holding hands. I wish he could see me ski now, and we could ski together down the mountain holding hands forever. He was such a wonderful grandpa no one could compare to him. He made me happy in so many ways, told jokes and always told me how to eat correctly. He taught me how to work things, like the trains in the train room, machines, and he always explained things that I didn't understand. He loved me so much; he cared for me and loved me with so much love. I felt his love when he hugged me and he always knew how to make me laugh. I know Nagypapa will always be in my heart and I am glad to know that. I know Nagypapa would want me to take care of Nagymama and other things too and I plan on doings those things. I love him so much and he will stay with me in my heart until I see him one day in "heaven" or where ever he is living a pain free life full of adventures and doing things he would have wanted to do. I love you Nagypapa forever.

Love your Granddaughter,
Karina Erika Martel (age 10)
Remembering Peter
(Written by Peter Hacker, 07/22/12)
My name is Peter Hacker , I am a dermatologist living and working in Toronto, Canada
I have known Peter for 55 years. We met in the Canadian Camp for Hungarian refugees in Vienna. Came to Canada on the same plain. Most people were taken by ship, but the Canadian Government took students or would be students on WWII plains. It took 32 hours from Vienna to Montreal. We were placed in a refugee camp, just outside of Montreal. The temperature was 40 below. A week later we were taken to Montreal itself. I got to the "cloister", a building where nuns used to live and which was evacuated for us, Peter got to "the jail". A wing of the City of Montreal's City jail which was evacuated for the refugees. A little later however Peter got into Petofi House, a rather elegant building given to the Hungarians students by McGill University.
Both Peter and I were part of the small Hungarian student group which went to Ottawa. There we were given rooms by the University of Ottawa where we received food as well. In not many weeks Peter bought his car – first of many- a second hand black Ford. It was one of his life's dreams. He knew how to drive well and was ready to repair any problems the vehicle may have had. It was the first car any of us had, and it was an evidence of Peter's extraordinary dynamic energy., with which he was endowed all his life.The car served him and his family well, for some years. I am sure Agnes still has pictures of it.
The University soon stopped paying for our accommodation and maintenance, we had to get jobs and a place to live. Peter, Toni Fekete, a graduate student in mathematics, and I , decided to join forces and get a place together. We found an attic apartment at 523 King Edward street, not far from the University..
The apartment had 2 rooms and a kitchen. The washroom was one floor below and we shared it with the landlord. The apartment cost $ 55.- a month. Peter and I shared the larger room, and paid 16.50 each, while Toni Fekete had the single room for $ 22.-
Life at 523 King Edward was not all that gloomy. I myself had a job as a night orderly at a hospital from midnight to 8 AM every second week, so my existence was rather a sleepy one. But on the whole we did manage to have some fun.
Peter worked in the Department of Physiology of the University of Ottawa for Prof. Aladar and Mme Beznak. The Beznaks were a Hungarian pair of physiologists. Prof. Aladar Beznak was previously chairman of the Dept. Of Physiology of the University of Budapest Medical School and at the time he was chairman in Ottawa . His wife Margaret ("Tomika") was his number two in the Department. Both of them were internationally renowned scientists. They were very good to the small Hungarian student group in Ottawa, had us over at their place many times, ever ready for help and advice. They likely took Peter at first as an act of kindness to help to do repair and maintenance on their experimental apparatuses, but it did not take them long to discover what a treasure they have acquired.
Peter with his ingenuity, brilliant mind and extraordinarily skillful hand was able to build or repair any of the experimental equipments needed. These attributes in addition to very hard work, a great organization and a lot courage were responsible for Peter's later success as well.
Now.. .in the physiology department they used non-denatured ethyl alcohol for some experiments and they had a lot more of the stuff than they needed. So Peter was able to bring home some from time to time. This alcohol became an important part of our existence on King Edward street. It supplied our parties with drinks and since none of us had much money ,it was also a source of calories. Pure alcohol is of course undrinkable. So mostly under Peter's direction we poured it into all kinds of soft drinks to give it some taste. If you are ever in a similar situation, I suggest not to use coke, the taste of the mixture is rather horrible. But egg nog is allright.
We also picked up another apartment-,mate. A young Hungarian fellow, called , Lajos Veres who had no job, no place to stay and not a cent in his pocket. We gave him a sofa which was in the kitchen and he could sleep there. His only duty was to make dinner for us once a week. So every Tuesday evening he made us a soup. Always the same one. Chicken wing soup with some vegetables we acquired.. It was a festive occasion, he made a small cauldron of it, and each of us could have 2 or 3 servings.
It was in early spring of the year that Agnes made her appearance. Not in physical form yet, she was still living in Switzerland with the Haffelis. We became aware of the increasingly frequent correspondence between Agnes and Peter. They knew each other from Hungary and Agnes left a deep impression on Peter. They became engaged through the mail. Later on Peter was fond of kidding , that I wrote his letters to Agnes. I can tell you ,this was not true. I had nothing to do with them. The feelings expressed in them came from Peter's deep love for Agnes, a love that lasted for the rest of his life.
Agnes arrived in early summer. According to the immigration laws of Canada at the time any Canadian or landed immigrant was allowed to import a future wife or husband to the country. The law was,that they had to get married in 3 days. We feverishly arranged the wedding . The ceremony was performed by Father Kovacs ( Kovacs atya), an amiable Hungarian Franciscan monk, who did good work with the newly arrived refugees. The reception was done at 523.King Edward in our house. The landlady kindly let us use the downstairs of the house for the occasion. Food was supplied by the Hungarian community and the event was a great success.
Peter moved out and they rented an apartment with Agnes. From then on my relationship with Peter was closely associated with that of Agnes. I was often at their place for friendly discussions on all kinds of matters, and just to be with good friends. Theirs was also the place for Christmas dinners, New Years eve parties and other similar occasions. Peter was a very hospitable man and was always the heart and sole of the get -togethers. I was often there for meals . I much enjoyed Agnes' cooking, I still do, but in those days in addition I was in considerable need of good food. I remember one Sunday noon, when Agnes made plum dumplings and Peter and she were sitting with me at the table watching with sympathetic amusement as I ate 21 of them.
A few years went by, Peter worked in the Physiology Department, Agnes in Histology. Andy, Erika and Miki arrived in quick succession and Peter decided to try a new business. It was making lamps. Peter made the lamps themselves, while Agnes put together the lampshades. They were great looking lamps, two which they gave me lasted for over 40 years. Peter wanted to set up a lamp business abroad and they moved to Mayaguez,in Puerto Rico. The business did not really take off and they moved to the San Francisco Bay area, where Peter started to work for Ampex.
When I went to San Francisco for 2 years of dermatology training in 1968 I drove from Montreal to their place in Redwood City. I stayed with them for a few weeks until I found myself an apartment in the City. During the following 2 years I saw them often, driving down to their place, first to Redwood City and later to Los Altos. They were such good friends! I introduced them to some of my friends and everybody was deeply impressed by Peter's open, genial personality, his intelligence, his capacity to help in any situation and his good sense of humor.
After I went back to Canada in 1970 I saw the Bajkas every 3 years or so, when I had a medical meeting in the area. I always stayed with them for a few days after the meeting was over.
I saw him in 2009, when he already had the cancer and I witnessed how brave he was fighting the disease. The last time I saw him was this year in March. He was not well, but the unmistakeble Bajka personality was still very much there.
Peter was a very old and dear friend of mine. I will miss him. Always.
Remembering Peter
(Written by Dennis Steffani, 2012)
For Peter,
I met Peter Bajka at a very pivotal time in my life. Andy and I shared a love of motorcycles and we rode together often. I was having a difficult time at home and although I wouldn't say I moved out, I did spend the night in a tree once. Andy extended an offer for me to stay at his parent's house. How could I refuse? Peter was a very gracious man and although I'm sure I tested his patience from time to time he was always kind and generous. Even when we were pulling our stupid teenager stunts like running across the pool cover or jumping off the pool house roof, he never really lost his temper as much as he lost a little faith that we would ever grow up. Thank goodness we did, well at least a little. I remember working on the Compool circuit boards at the house and watching Peter's ambition become reality. That had a big impact on my life. I had a first hand view of the American Dream blossoming right in front of me. He was also a fantastic Dad and he was committed to having a balanced life of play that was so deserved after all the hard work. Whether it was water skiing or snow skiing, there was always time to spend together as a family, enjoying everything life had to offer. There was also the time they actually let me borrow their car. And I even brought it back in one piece, nary a scratch. For me that was a big accomplishment and saying thanks for trusting me.
I feel very blessed to have been able to share some of those times with Peter, Agnes and the entire family. They made me feel welcome and reminded me what family is all about. I returned to my own family with a renewed perspective and outlook and I am forever grateful.
Peter was a no nonsense kind of guy and maybe my nonsense kind of personality was a bit of a yin to his yang. I hope I brought as many smiles to his face as I could. I will always remember him with sincere warmth and gratitude. I mentioned this in a Facebook post to Andy when I got the news of Peter's passing, it has meant a lot to me for many years;
"That Man is a Success, who has Lived well, Laughed often and Loved much"
Peter Bajka was most definitely a Success.
With Warm Regards,
Dennis
Remembering Peter
(Written by Brian Lee, 07/18/12)
An American Dream
Peter Bajka leaves a legacy of modernizing backyard pools and spas with microprocessor based controls he developed at Compool Corporation, a Silicon Valley company he started in the mid 70's. By the early 80's his company's name was synonymous with the "good life", as his control systems did the work while the pool owners relaxed.
Peter embellished the American dream. Having escaped from the repressive life of communist Hungary in the 1950's, his life's journey took him to Canada, where he married Agnes, his wife of – years. Soon the couple moved to Puerto Rico, started a family, and began a lamp shade making business. After their success there, they traveled across the United States by camper-van, and ended up in the bay area of California.
Even as a boy back in Hungary, Peter had a fascination with electrical products. When his first attempt at building a radio ended in "no-output", young Peter brought his contraption to a local radio repairman who offered to train Peter in exchange for help around the shop. Peter eagerly agreed, and his electronics career was off the ground.
His experience in Hungary, along with his own self-teaching was enough to land him an electronic-technician position at prestigious Ampex Corporation in Redwood City, Calif. While at Ampex, Peter set his sights on a degree in electronics and began taking classes at San Jose State University.
The Bajka family settled in Los Altos where they purchased a home which came with a swimming pool. Being technically-minded, Peter delved into the hydraulic and chemical aspects of his new investment. It wasn't long before he became an expert on pools, and realized that he if he started his own pool service business it would give him more time for his university studies. With Agnes contributing to the family budget working in the pharmaceutical industry, Peter took a leap of faith and left his position at Ampex to pursue his new pool service business. He converted the family's camper-van into a service truck, and began fixing pools in the Los Altos area.
By the 1970's pools with attached spas became popular, and this gave Peter the idea to add a spa to his own pool. The plan worked great, and with some brick, mortar, tile and sweat, the Bajkas soon had a pool/spa combo, providing the relaxation required of a very busy schedule.
The only thing missing was the automatic controls. The only problem- they did not exist- not yet anyway. This is where the story of Compool begins. In his garage Peter began motorizing valves, drawing up electronic schematics, and soldering circuits together. It wasn't long before many homes in Los Altos had a Compool control systems running their pools and spas.
Upon graduating from San Jose State University, Peter rented industrial space to start his dream company. By the end of the 70's his company was off and running. By the early 80's he was able to acquire property and build his own facility. By the 90's pool/spa automation was becoming commonplace, and bigger pool equipment manufactures were looking for a piece of the automation pie. By the turn of the century, Compool Corporation was acquired by PacFab Inc. and within a couple of years PacFab was acquired by Pentair Inc.
Peter retired in Auburn California where he and Agnes could be close to their children and grand children, and to the ski slopes of Lake Tahoe. Besides hard work, Peter had a passion for travel, boating, skiing, fine wine and food, and spending time with friends and family.
Remembering Peter
(Written by Christopher Kalberg, 09/06/12)
I will always be grateful to Peter (and Agnes) for letting me stay at their home for several months in between graduating college and heading off to graduate school. This act of kindness is even more incredible to me now that I am older with kids and a home of my own and I can better relate to their generosity. That is to essentially adopt me as a member of the family for several months with no strings attached, provide room and board, and to treat me with kindness and respect. I honestly do not know if I could be as generous if faced with the same situation. But I have come to understand that such acts of kindness were common with Peter and show what a kind and generous heart he had. While staying with them I came to be very impressed with Peter's intellect and entrepreneurial abilities. Developing a unique and successful product must have been incredibly fulfilling to him and I cannot image a greater level of professional satisfaction than creating a successful business. These are professional legacies that only a small minority can claim. Peter definitely had a strong character and was not one to suffer fools gladly. I particularly remember a special facial expression he had when confronted with someone or something that did not meet his expectations. As I recall, it was a bit a sideways smile with raised eyebrows and the expression was enhanced by his full eyebrows. I also remember being the recipient of this look on a couple instances but do not remember it being malicious at all, just that he expected the most out of himself and others. I also remember from several occasions that he was a patient and skilled teacher. I have often thought of his generosity, intelligence and drive over the years as inspiration for my own life and career.
Remembering Peter
(Written by Kevin Murphy, 10/06/12)
I have put off writing this for several months because every time I try, my eyes get puffy and watery. It is time I muscled through, I owe him that. Please bare with me, since to tell my story
of Peter requires some detail about my journey. On my desk at work I have a couple of family
photos, and a picture of Peter. Clearly he impacted my life in more ways than I can ever explain.
This is the story of a man who somehow found it in his heart to give me not only a second chance, but a third, a forth, frankly I lost count. I still cannot believe what he really did for me
and I have had nearly a quarter of a century to digest it.
I first met Peter when I was about 15. Andy and I became friends in high school, and frankly
(sorry Andy) we were nothing but trouble. Those years alone should have prevented any further
association between Peter and myself. Yet in our twenties I started working in the computer field
and Andy took quite an interest as well. At some point Peter asked if I could automate a test machine using a PC. I said sure, and he gave me my first consulting job.
He continued to throw consulting projects to me, of course there was an issue. I had a substance abuse problem. When things started getting bad, I sat down to lunch with Peter and explained. Peter responded by telling me that he was pleased I was doing something about it, and to take the time I needed. He also offered to help in any way he could. I of course got worse rather than better. I became completely undependable and then just sort of disappeared.
I ended up in rehab, got out and of course was sad that I had destroyed our relationship. When I was about two months clean I saw Andy one day (a a stop light). He said Peter wanted to talk.
I assumed he wanted to tell me how disappointed he was, or read me the riot act. Certainly after what I had put him through, I owed him that. I went into Compool the next day prepared for a bit of a tongue lashing. Nope not with Peter, he offered me a job. As my jaw hit the floor I happily accepted, I had a family to feed.
Within just a few weeks I went and got loaded, started being undependable, and then disappeared. I got back on track about six weeks later, and have been ever since. I went looking for a job where no one knew me, or knew of me. Certainly, having lost count of how many times I had let Peter down, I expected I would never hear from him again, and I certainly didn't want to face him. Yet, Peter started calling me at work, every week or two he would call and ask a question that I am certain he could have gotten the answer to somewhere else. I of course was happy to help, I owed him that. It didn't take long before I realized he was checking up on me.
Making sure I was showing up to work, keeping my nose clean and the like. I thought this was very kind given what I had put him through over the years. It also pleased me that he would even talk to me, let alone care about me. This went on for about eighteen months. Then in one of his calls he asked if I could stop by Compool on my way home. I said I certainly would, I owed him that. We sat down and Peter offered me some consulting work. I remember thinking "does he not remember how any times I left him empty handed and disappointed".
I of course said yes, the extra money was very welcome. He continued to throw me consulting jobs for a couple of years, and then offered me a job at Compool. I have been there ever since.
I actually still work for the company that bought Compool, and make a good living doing so.
I almost can't imagine how things would have gone without Peter, time after time giving me another chance. I know for a fact that many of the times he had people telling him not to do it,
I would just screw up again. He somehow saw beyond all that, and I am forever in his debt.
Forty years ago, Peter was the father of my best friend. Over the years he became a mentor, an employer, and a friend. How do you ever thank a man like that. I doubt anyone reading this needs my words to know what a wonderful person Peter was. I know my words will never do justice to Peter or is memory. Though we talked on the phone a few times in his last few years with us, I never got a chance to visit him. I am sad every day that I never had the chance to thank him in detail, and in person for all he did for me. I hope he knew how deeply I appreciated his seeming endless faith in me, and all that he did.
I could go on for hours, but I am crying too much at this point to continue. I hope that in some small way I have done justice to his memory.
Pool & Spa News article dated September 28th 2012